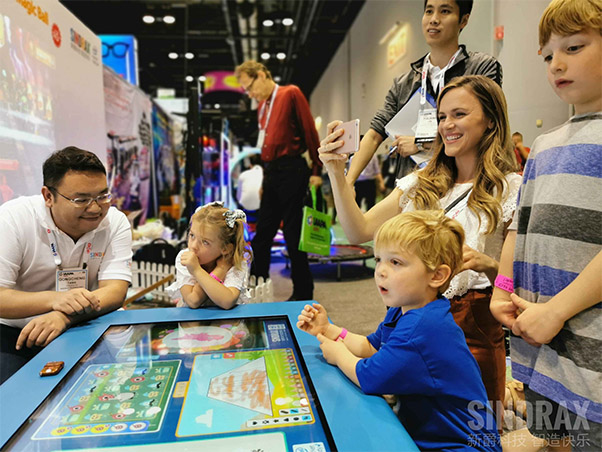 Sindrax Technology, the hi-tech company providing interactive multimedia products for children aged 2 – 8 years old, has completed several projects this year and is now an Intel Market Ready Solution partner.
Sindrax Technology is pleased to announce that it has been working on hundreds of innovative projects during the course of 2021. The company designs and develops digital products in order to transform children's spaces into immersive play and learning areas.
To date, Sindrax has provided products to more than 3000 locations in over 50 countries worldwide, including indoor playgrounds, FECs, amusement centres, children's museums, retail spaces and more.
Sindrax Technology has a global vision and is an accredited national hi-tech company as well as a member of IAAPA and NAYCE. It has obtained the ISO9001 certification and holds several patents and software copyrights.
Latest projects
One successful product is the Magic Brush Interactive Sketch Book, an interactive graffiti touch table for children that has already proved popular at an indoor playground in Indonesia. This allows users to play a number of interactive games, including doodling and solving puzzles.
Generated elements appear on the big screen with animation effects. The product is designed to foster creative thinking and help to develop sensory cognition.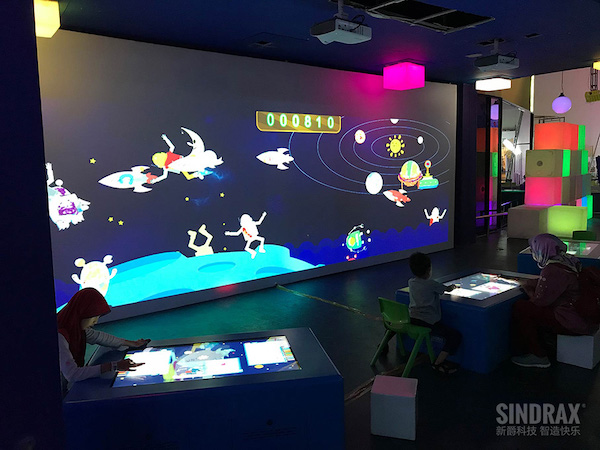 Generated elements appear on the big screen with animation effects. The product is designed to foster creative thinking and help to develop sensory cognition.
Meanwhile, children at the Kidztopia indoor playground in Singapore have been enjoying Sindrax's Kids STEM Lab, which enhances creativity and hands-on ability in exploration. For example, children can draw water to flow around by hand-painted graffiti and existing props.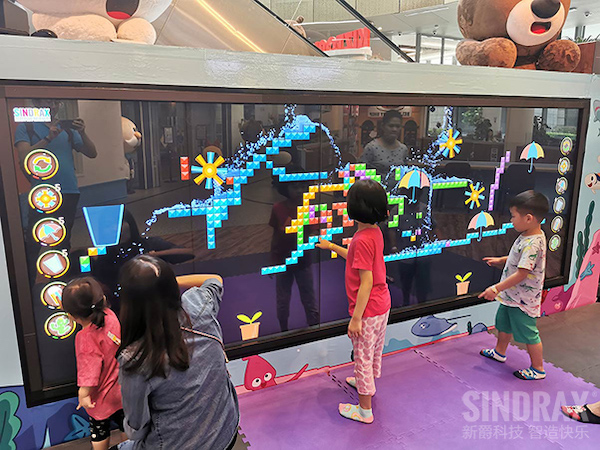 The Kids STEM Lab currently has 10 themes, encompassing different game modes and knowledge points.
Sindrax's intelligent gamified educational products for children aged 2 – 8 years can be found in over 3000 locations worldwide, mainly in kids indoor playgrounds. The products include original themes as well as much-loved IPs such as The Octonauts, GG Bond, Super Wings, Oddbods from BBC and Cartoon Network.
Reinventing children's spaces
New technological innovations, such as AI, computer vision, and augmented reality, are changing kids' spaces into interactive and engaging environments.
Sindrax's solutions transform traditional spaces into interactive play and learning areas, where children can learn through fun edutainment activities, and parents can join in too. These products introduce children to immersive educational tools, allowing them to develop creative and scientific thinking, as well as curiosity, creativity and sharing skills.
In addition to this, the cloud-based system allows for the continuous updating of games content, keeping the experience up to date and lowering the operators' equipment upgrade costs.
Intel Market Ready Solution
During 2019, Sindrax Technology also became an Intel Market Ready Solution partner. The solution created by Sindrax is based on Intel's cloud-to-end overall solution and combines natural human-computer interaction technology to make the traditional children's entertainment space more interactive and immersive.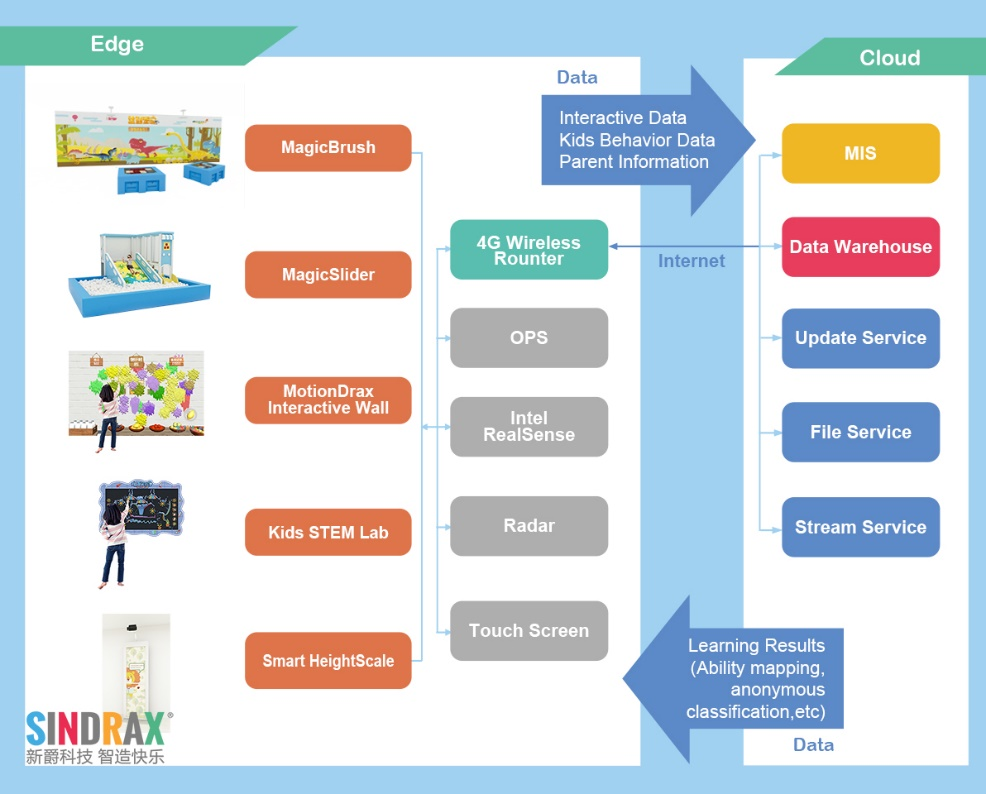 When it comes to smart playground technologies, children and their parents have high expectations. To help provide seamless operation and great experiences, Sindrax Technology powers its IoT solutions with Intel processors. Intel technology delivers the performance required for real-time analytics. It also enables interactive capabilities using a variety of sensors and connected devices.
Satisfied customers
One satisfied Sindrax Technology customer, the Jawa Timur Park in Balang, Indonesia said, " At present, the development trend of the playgrounds is more and more focused on interactivity and education. Parents also hope that children can play healthy and meaningful, and Sindrax's products help us solve these problems. Children love such game content!"
Sindrax Technologies says, "We are proud to be involved in various indoor playground projects in the Southeast Asia region and are willing to continuously provide the best interactive and immersive edutainment experience to kids around the world.
"Sindrax's Technology is proud to be Intel MRS member and get comprehensive support from Intel's latest technology."